20 years of partnership between Le Petit Prince and Petit Jour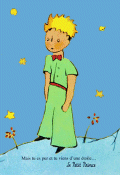 It is now 20 years since The Little Prince\'s path crossed that of Thomas Lettmann and Petit Jour. Since then, we have never left one another\'s side… to everyone\'s satisfaction!
Come and celebrate this anniversary with us and find out more about the history of a long and fruitful friendship, but also about 20 years of the Little Prince collection – and win vouchers to spend at Petit Jour Paris!
Find out more: http://www.antoinedesaintexupery.com/petitjour/