Dessine-moi un Mouton at the Salon du Livre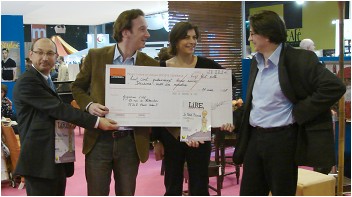 On 27 March at the 27 Paris Book Fair, the L'Express-Lire group officially presented a cheque for 28,000 euros to the voluntary group Dessine-moi un Mouton which works with families affected by AIDS. The cheque represents the proceeds of sales of a special issue of Lire magazine, devoted entirely to The Little Prince, to mark the 60th anniversary of its publication in France. For every copy sold, 50 centimes was donated to the association.
For the past 17 years, Dessine-moi un Mouton has been offering social and psychological support to families affected by AIDS. A team of experts helps families try and keep life on an even keel for children and parents alike, to re-establish family ties, to be part of mainstream society despite the disease, as well as helping keep track of their medical follow-up. Since 1990, the group has reached out and provided support to over 1,000 families.
Find out more: www.dessinemoiunmouton.org