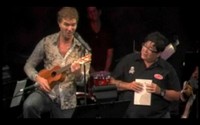 Lance Horne makes fun of the Little Prince in song

Lance Horne, music director, lyricist, singer and musician, is well known in the world of musicals: a one-man orchestra with a finger in many different pies. In 2011, he releases his début album, First Thing Last, a rich pot-pourri of musical styles (musicals, pop, jazz, etc.).
One song certainly caught our eye (and ear): I Hate the Little Prince. In it, Lance Horne recalls the ten years he spent in Paris and launches an attack on the Little Prince, whom he claims to hate.
Here are some of the words:
I know it's forbidden to say it, I know it's a cultural institution
But the thing that separates me from the Parisians
I hate the little Prince
I don't care about the kid on the lonely planet
I don't care about the flower
I don't even think the illustrations are decent
I really hate the little Prince, I really mean it.
Listen to a live version of the song.