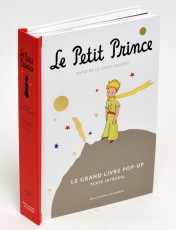 Success: the Little Prince pop-up books !

The giant pop-up book goes from strength to strength in 2011, adding to its already phenomenal success! Since it was first published in 2009, it has sold no fewer than 60,000 copies in France (and over 300,000 worldwide).
As a result, Gallimard has decided to launch a third edition of the pop-up book. Fans of the Little Prince will be delighted at the news. It has to be said that the book is magnificent, and truly merits the success it has enjoyed!
In fact, it is a victim of its own success: with demand still heavy, the pop-up book is sold out everywhere. Well, not quite everywhere: the very last copies still available can be ordered from the online store while the limited stock lasts.
Perhaps your children are also fans of the TV series starring our friends, the Little Prince and the Fox? Well, the good news is that there is also a pop-up book of the series available. Not just lovely to look at, it will whisk children back into the fantastic adventure world of the two heroes!
Order your copies of the pop-up books now, from the Little Prince online store!