The Little Prince in shadows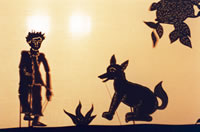 The Les Amis du Petit Théâtre d'Ombre shadow puppet theatre group is embarking on a French tour from September to November 2003. The troupe of young Cambodians (6 musicians and 7 puppeteers), all aged between 16 and 20 and accompanied by three adults, will present a series of performances based on the repertoire of the 2000 tour.
The repertoire will also contain new pieces, including an adaptation of the Ramayana, a piece inspired by The Little Prince and creations based on themes from modern life. All the items in the repertoire will be subtitled in French.
Find out more: http://www.editomac.fr/ombre/