The Museum of the Little Prince in Japan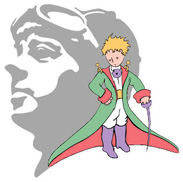 Hakone, a small town with a population of 15,000 inhabitants not far from Mount Fuji, is home to the Museum of The Little Prince. Opened in 1999, the museum is also dedicated to the Little Prince's creator, and takes the visitor deep into the world of Saint-Exupéry and his times.
The museum covers an area of 10,000 m² and is entered through an exact replica of the great gate to the Chateau of Saint-Maurice-de-Rémens, where the visitor is confronted by a statue of The Little Prince on his planet. The visit begins with a tour of a Provençal quarter, where every detail is heavy with symbolism, such as the hotel named after Guillaumet or the manhole covers stamped with drawings of The Little Prince. A little further on, we find a Lyons street circa 1900, representing the year and the place of Antoine de Saint-Exupéry's birth. This is also where you will find the museum that retraces the life of the aviator in a series of rooms devoted to his childhood, l'Aéropostale, Cap Juby, Argentina, New York, etc. The walls are covered in period photographs, documents and manuscripts in the author's hand. The next stage in the visit is an exhibition of translations of The Little Prince. Finally, the visitor comes to the formal gardens and a life-size reconstruction of the facade of the Chateau of Saint-Maurice-de-Rémens.
These are just some of the countless surprises the Museum of The Little Prince in Hakone reserves for visitors, not forgetting the « Consuelo de Saint-Exupéry » rose-garden or the chapel, inspired by the chapel of the original chateau. In just six years, the museum has already attracted over a million visitors. But how and why did such a museum come into being in Japan? It was founded by Mrs. Akiko Torii in 1999, to mark the centenary of Antoine de Saint-Exupéry's birth. Like so many of us, she discovered The Little Prince as a child. The book inspired her with a passionate admiration for the aviator. She later became the Saint-Exupéry estate's representative in Japan.
Find out more:
Interview with Akiko Torii and guided tour of the Museum of The Little Prince (in french)
Museum of The Little Prince, Hakone