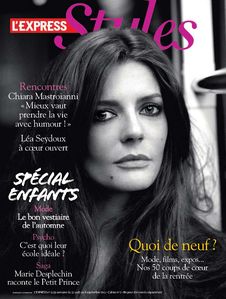 People are talking : l'Express magazine devotes 3 pages to the Little Prince !

This week, l'Express magazine's Styles supplement has a feature on the Little Prince!
It's a busy back-to-school period for the Little Prince this year, and thus a good opportunity for journalist Marie Desplechin, who has written for both children and adults, to take a fresh look at the phenomenon of Antoine de Saint-Exupéry's little blond chap.
Marie Desplechin, who is more than familiar with the codes of storytelling and the language of children, explains the beauty and the brilliance of the message conveyed by this masterpiece – the second best-selling and most-read book in the world – to adults and, above all, to children.
Who better than the author of such popular children's books as Rude samedi pour Angèle and Le Sac à dos d'Alphonse to highlight for us how, in Saint-Exupéry's tale, the language works equally well on two levels (both for children and for adults) or the close resemblance between the 43 year old author and his young character. If you've ever wondered about the meaning of The Little Prince or why the story is so successful, be sure to read this article; it sheds a great deal of light on your favourite story.
The tale penned by the writer and aviator is forever finding new forms of expression. This autumn will bring a crop of 24 comic albums based on the France 2 TV animated series, which will also be launching a new series of adventures in September. The Little Prince also has a date in La Défense at the end of September, for a spectacular son et lumière show.  Everywhere you look these days, you seem to see the Little Prince! How pleased Saint-Exupéry would be, at having finally managed to remind adults that they were all children once…