The Little Prince in Montréal for the « Escales Improbables »
Tuesday, September 3, the Little Prince visited the Vieux-Port of Montreal, for the Montreal « Escales Improbables ».
This is where a collaborative mural fresco is set. The children will be invited to draw with chalk their own planet on it, amongst the Little Prince constellation.
The event, entitled « Draw your planet » has opened at 17:30. The mural will move into different parts of the city during the autumn. It will include the Museum of Fine Arts during the Days of Culture, as well as Musee Grevin Montreal. It will then be offered at the CHU Sainte-Justine.
The event « Draw your planet » is co-organized by Gallimard and Succession Saint-Exupéry d'Agay, with the support of many partners :  EIM – Consulat général de France à Québec – Air France – MBA Mtl – Télé-Québec – BAnQ – Grévin Montréal – Trudeau Corporation – Fondation et CHU Sainte-Justine – Excentris –  JackWorld Inc.

Other activities are also planned for the fall, including a contest in schools and a public reading at the Grande Bibliothèque.
For more details, see: creerdesliens.com.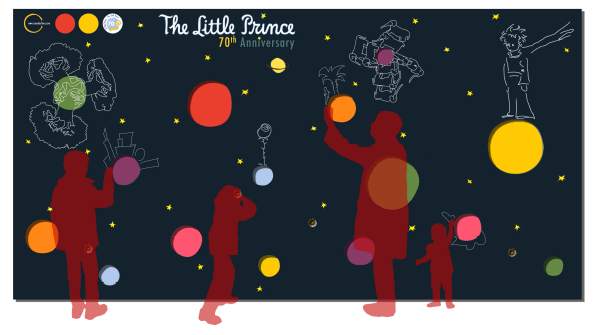 Here is the mural during the opening of the 70th anniversary of the Little Prince in Québec.
Pictures by Geneviève Brindle.