The Little Prince on the Phoenix Theatre stage
The Little Prince may have returned to his own tiny planet to tend his Rose and look after his Sheep, but for a short enchanted time he returns to us and comes alive on stage. This play/musical tells the story of a world-weary and disenchanted Aviator whose sputtering plane strands him in the Sahara Desert and a mysterious, regal « little man » who appears and asks him to « Please, sir, draw me a sheep. » During their two weeks together in the desert, the Little Prince tells the Aviator about his adventures through the galaxy, how he met the Lamplighter and the Businesswoman and the Geographer, and about his strained relationship with a very special flower on his own tiny planet. The Little Prince talks to everyone he meets: a garden of roses, the Snake and a Fox who wishes to be tamed. From each he gains a unique insight which he shares with the Aviator: « It is only with the heart that one can see rightly. » « What is essential is invisible to the eye. » Both the « little man » and the Aviator reach a new understanding of how to laugh, cry, and love again. Based on the original text by Antoine de Saint-Exupery, the beauty and truth of this story and the language with which it is told gives the audience a gift on insight into their own lives and the meaning of the holiday season.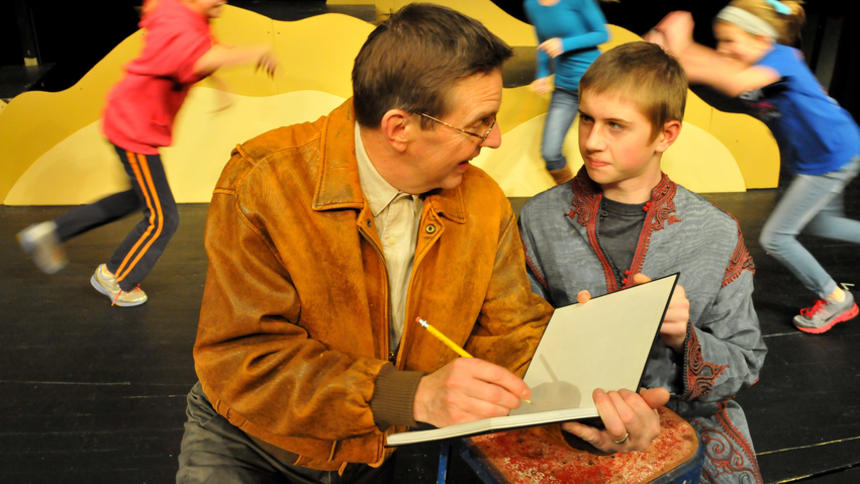 The Aviator (David Oakes) talks with the Little Prince (Rhett Waller). (Photo by Rob Meyer)
Tickets are $20.50 for adults and $12.50 for students. They're available at the Sheldon box office or www.sheldontheatre.org. For more information, call 651-388-8700.
Phoenix Theatre
The Little Prince"
When: 7 p.m. Dec. 12-14, 2 p.m. Dec. 15
Where: Sheldon Theatre
Cost: $20.50 adults, $12.50 students
More info:  www.sheldontheatre.org