The Little Prince is 60 years old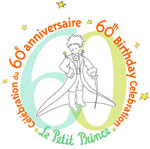 The celebrations began on 13 January 2006 at the Théâtre Michel (Paris). Friends of The Little Prince celebrated his birthday in fitting style. Nikolaus Schapfl\'s opera was performed in its full-stage version before an audience of 2,500 spectators.
Lire magazine published a special issue devoted to The Little Prince, an exhaustive document on the tale and its author. L'Express also ran a full-length feature on The Little Prince which included a free copy of the reading recorded by Gérard Philipe (1954).
Gallimard, the book\'s French publisher, offered its readers a collection of the author\'s drawings: Antoine de Saint-Exupéry – Aquarelles, pastels, plumes, crayons. Also as part of the 60th anniversary celebrations, the book Il était une fois… Le Petit Prince (Once Upon a Time there was… The Little Prince) is an anthology compiled by Alban Cerisier including an analysis of the work and previously unpublished accounts and critical reviews. A limited edition and a CD read by Bernard Giraudeau were produced for the occasion.
To immortalise the 60th anniversary, a statue of The Little Prince was unveiled at his birthplace in Northport (Long Island, USA) on 16 September 2006.
Happy birthday, young man!
Find out more: http://www.60anslepetitprince.com