Le Petit Prince in Versailles starts this wednesday !
Exhibition 25th November 2015 to 28th February 2016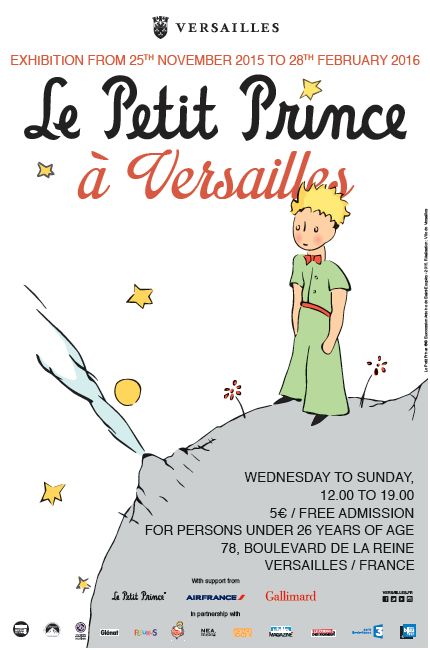 Le Petit Prince remains a worldwide publishing phenomenon, still a source of wonder 70 years after its first publication in France.
On the occasion of this anniversary, Succession Antoine de Saint-Exupéry and the Municipality of Versailles, in association with Even BD, are devoting a special exhibition to the famous character, presenting in several chapters all aspects of the personality and work of Saint-Exupéry:
• the first, entertaining and educational in its concept, consists of extracts from the texts and explanatory notes in an out-of-the-ordinary presentation modeled on the world of the original work.
• the second, thematic in its approach, presents the writer, Antoine de Saint-Exupéry, an extraordinary character who was both pilot and writer.
• a gallery of comic book drawings offers the opportunity to discover in particular the work of the greatest graphic artists and their tributes to Le Petit Prince and its author.
• a further display is devoted to the latest cinema adaptation of Le Petit Prince, first screened in July 2015. Numerous original exhibits, including some from the Air France Museum, many of them on show to the general public for the first time, are on display: Antoine de Saint-Exupéry's chain bracelet, flight logbook and diary including drawing from the Petit Prince, preparatory drawings and sketches, extracts from the animated film, an unique bronze of the Petit Prince by the sculptor Consuelo de Saint-Exupéry, photographs, drawings…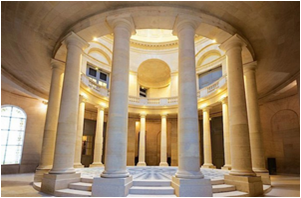 Situated in the heart of Versailles, between the Versailles Rive-Droite station and the Notre-Dame market, the former royal hospital re-opened to the public in April 2015. At its centre, its XVIIIth century chapel is now home to the Espace Richaud. Le Petit Prince à Versailles is the first major exhibition to be staged there.