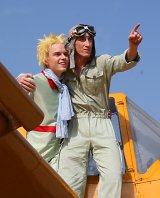 Welcome to the world of Antoine de Saint-Exupéry! Gregor Seyffert invites us on a journey into the infinite realms of the imagination.
Disappointed by love, The Little Prince leaves his planet and travels the universe in search of friendship, humanity and affection. In the course of his journey, he meets a series of mysterious people and animals. Through the questions he asks of the world and his experiences in it, at the end it becomes clear: it is only with one\'s heart that one can see clearly. At the end of his journey through the world of grown-ups, The Little Prince finds the strength to return to his planet and his love.
Producer and choreographer Gregor Seyffert understands Saint-Exupéry\'s message in The Little Prince. As is often the case with tales, he says, it is a book for children and adults alike, full of delight. Above all, for him, it is the most touching existentialist work of the 20th century. He remembers rationing himself, when reading it, to just a few pages at a time, so as to postpone the moment of reaching the end. « The words, phrases and images were just too precious ». Through this ballet, Gregor Seyffert invites us to rediscover the eternal child that dwells in us all. In his notebook he writes : « Far too soon, at an age when we are still in need of a refuge, we have been deprived of (weaned away from) God, and so now we must fight our way through life, lonely little boys and girls ».
Producer/Choreographer: Gregor Seyffert
Sound: Wolfgang Bley-Borkowski
Director: A. Christian Steiof
Costumes: Gabriele Kortmann
Video animation: Olivier Schroeter/Christian Molle/Thomas Schaarschmidt
Music: H. Le Bars, P. Comelade, E. Satie, S. Prokofiev, les Tambours du Bronx, J. S. Bach, Lambaren.
Find out more: http://www.anhaltisches-theater.de