The Little Prince Park is open on Christmas !
The Little Prince Park is now ready for Christmas !
It reopens from November 29th to January 4th , to offer wonderful holidays to the visitors !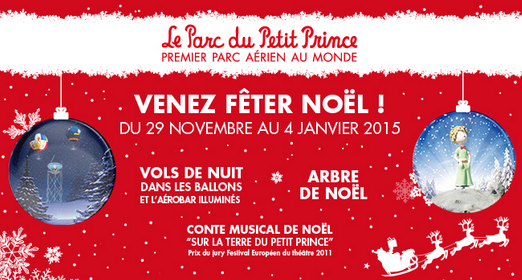 Open up from november 29th to January 4th, until 7 PM thanks to the installation of a new lighting system, visitors will fly at night in the balloons of the King and the lamplighter, illuminated in the sky like two giant Christmas balls . They can also fly aboard the aerobar with mulled wine or a hot chocolate.
For the occasion, a new space will be open to the public, the Volcano of Passions. The little visitors will meet Santa Claus on his sleigh while enjoying Manalas or Bradeles, typically Alsatian specialties.
Thanks to the partnership with France 3 Ludo and Method Animation, new episodes of the Little Prince series will be released in the Park movie theater.
Besides, you can attend a particularly poetic and entertaining show, «  The Little Prince's Earth. » This musical tale of 45 minutes immerse visitors in the epic story of The Little Prince. Awarded by the Jury Prize at European Festival Theatre, this modern piece directed by Arnaud Devolontat, is open to all, from 5 years to 105 years!
A new season for the family pass!
Launched in July, the family season pass for 99 euros (for 2 adults and 2 children under 17 years) has been widely acclaimed by local visitors. It is again proposed for the year 2015 (March 29, 2015 January 3, 2016). An original gift idea to give for Christmas! On sale at the shop of the Park and on the Internet.
Information
Open from 29 November 2014 to 4 January 2015 ( except 1,2,8,9,15,16 and 25 December)
Open from 11AM to 7PM
Rates: 22 euros per adult, € 16 per child, free for less than 1 meter.
Family Day Pass: 2 adults / 2 children: 69 euros
Family Season Pass: 2 adults / 2 children: 99 euros
Facebook => www.facebook.com/leparcdupetitprince
Twitter => @parcpetitprince
YouTube => www.youtube.com/user/parcpetitprince