The Pilot and the Little Prince: The Life of Antoine de Saint-Exupéry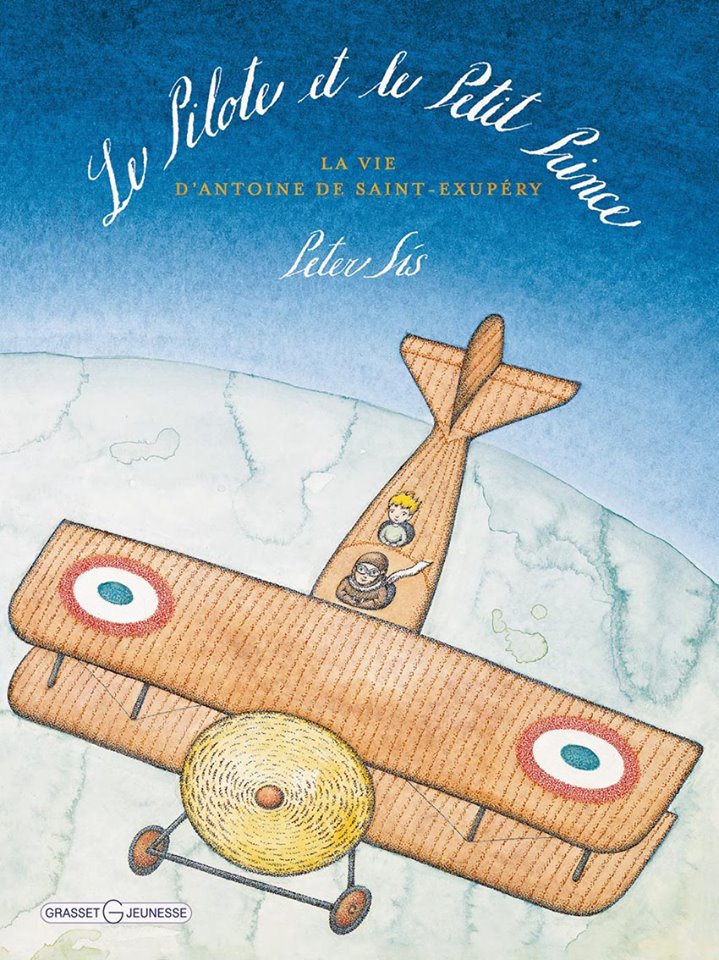 Peter Sís is a worldwide known author and illustrator. He has created a beautiful album about Antoine de Saint-Exupéry's life.
« When I was about 12 or 13, my father gave me The Little Prince. He was making sure that I knew it was a special book. I'd seen the name of Antoine de Saint-Exupéry, but to me it seemed a very French name and I was not excited about him as a person. I just read the book, and it was a life-changing experience, because I was in this little country, which was sort of closed and dark, and all of a sudden there was this book which was telling me how wonderful life can be or will be…. » Peter Sis for Publisher Weekly
At the turn of the last century, was born a boy with blond hair , who would become a great adventurer …
In this time of great discoveries , we dreamed new inventions. While we were witnessing the beginnings of Aviation , Antoine already built , at the age of twelve years old, his own flying machine … And even if it did not work, it did not discourage !
Abounding in this album that caters to both children and adults , Peter Sis tells the story of this little boy who wants to realize his dream of flying. We follow , step by step , his first steps in Aeropostale, being a mechanic engineer before becoming a pilot , and we discover his unusual life . From meetings and trips that have build him, to the Second World War during which he disappeared , the magnificent and captivating boards by Peter Sis immerse ourselves completely in the life of this great aviator, who loved to read and write as he flew …
Peter Sis , painter, illustrator, writer and filmmaker , grew in Prague where he studied at the Arts Academy. After studying at the Royal College of Art of London, he moved to the United States. He lives in New York with his wife and their two children.
His albums have received numerous awards , such as the Andersen Prize for all of his work at the Bologna Book Fair 2012, Le Prix des Sorcières for Madlenka, the Montreuil Book Fair award for The Three Golden Keys of Prague, the Grand Prix of Bologna ( category nonfiction ) for The Tree of Life , Charles Darwin, and The Wall,my childhood behind the Iron Curtain, has received the prestigious Caldecott medal in the United States .
Peter Sis has also created a monumental Aubusson tapestry in honor of the Irish poet and Nobel Prize winner Seamus Heaney , to answer a demand of U2, Paul Simon and Amnesty International , which adorns the Dublin Airport since April.