A Saint-Exupéry week in Toulouse (France)
From June 10 to 17, the Ecole Nationale de l'Aviation Civile (ENAC) in Toulouse pays tribute to Antoine de Saint-Exupéry.
On this occasion, ENAC proposes to rediscover his work from a new angle. The man, the pilot and the writer will of course be highlighted, but also a less known facet of his prolific career: the passionate inventor, eager to imagine the future aviation.
For the first time in France, patents filed by Antoine de Saint-Exupéry will be exposed to the public. The inventiveness of these inventions will match the taste of innovation underlying civil aviation and its new challenges.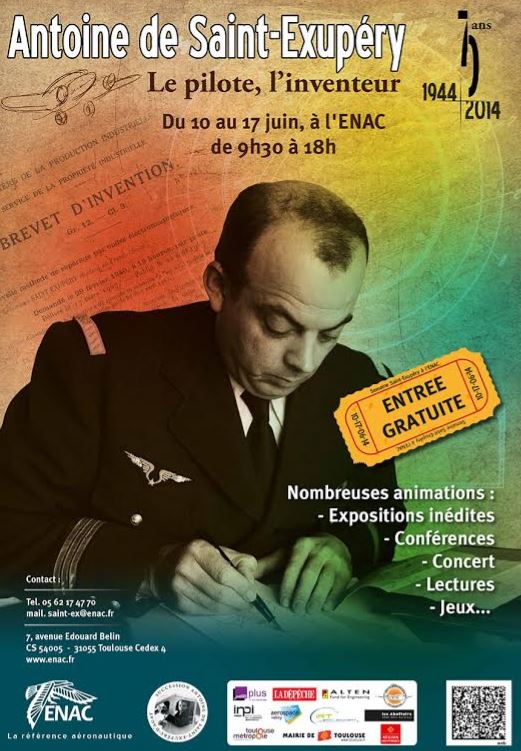 The program
Tuesday, June 10
– 12:00: Quiz on Saint-Exupéry with prizes to win. Orly building
– 13:00: Opening of the exhibition. Leonardo da Vinci space
– 17h30: Conference / dedication « Antoine de Saint-Exupéry and line airmail « , by Bernard Bacquié. Amphi Bellonte
Wednesday, June 11
-15h00: Presentation of the projects for the challenge Saint-Exupéry / Alten to the jury. Amphi Bellonte
– 17h30: Conference « Patent global strategic issues, » by Agnès Paillard and Alain Souchard. Amphi Bellonte
Thursday, June 12
-17h30: Conference « Montaudron yesterday, today, tomorrow » Amphi Bellonte
Friday, June 13
– 14:00: Opening of Building A « Antoine de Saint-Exupéry » – on invitation
– 17h00: Award ceremony of « Saint-Exupéry/ALTEN » Amphi Costes Challenge
– 18h30: Thierry Huillet and Clara Cernat Concert « The Little Prince ». Amphi Bellonte
Saturday, June 14:
– 14h00: Awarding ceremony for the photo contest « In the footsteps of Saint-Exupéry in Toulouse. » Library
– 15:00: Meeting with François D'Agay. Amphi Bellonte
– 17h00: Quiz on Saint-Exupéry with prizes to win. Orly building
Monday, June 16
– 17h00: Round table moderated by Michel Polacco: « What if … Imagine aviation tomorrow, » bringing together experts aerospace innovation. Amphi Bellonte