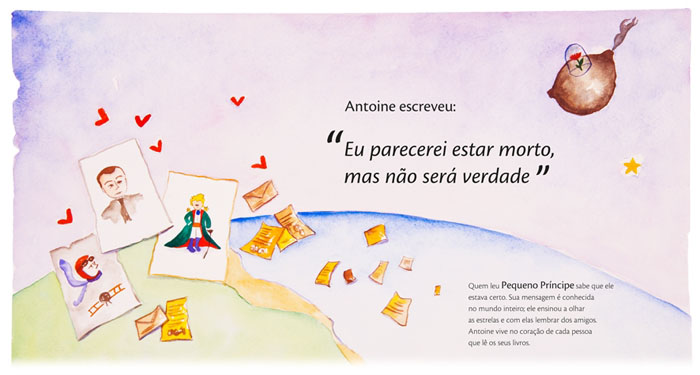 The aviator and the fisherman

"The aviator and the fisherman" is a free exhibition that uses a light-hearted approach and simple language to tell the delightful story of how Antoine de Saint-Exupéry, author of The Little Prince, visited the Campeche district of Florianópolis and of his links to the fishermen.
Children from the age of 6 and adolescents will be able to find out more about this important period in the history of Santa Catarina Island, while teachers, carers and accompanying adults will have access to original data and photographs providing a timeline of Saint-Exupéry's life and works, presented alongside illustrations by Juliana Góes.
This colourful space can be visited and revisited as a stroll through the history and traditions of Florianópolis, and is graced by two models of vintage planes used by the airline Saint-Exupéry once worked for: l'Aéropostale.
Everyone is cordially invited to visit the exhibition, which opens on 10 November (official opening at 7 p.m., at a ceremony attended by the Santa Catarina State Secretary for Tourism, Culture and Sport) and runs until 11 December at the Santa Catarina History Museum, the Palácio Cruz e Sousa.
Teachers from both private and state schools are invited to sign up for a free workshop to be held at the museum on 11 November, led by the exhibition curator, Mônica Cristina Corrêa, to learn more about Saint-Exupéry and the Little Prince. More info on the official website.