Tickets for the Little Prince play in Paris are available !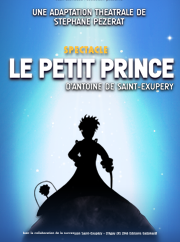 The Little Prince will be on stage at Bobino, on December 15. Do not miss this unique event !
 The sun rises over the Sahara desert. Down a dune, a plane landed and a man is asleep on the sand.
The first rays of the sun warm the morning air and the desert wakes up in a symphony of extraordinary colors.
A little man is running down the dune, he stops in front of the sleeping pilot and asks: « Please draw me a sheep!  »

The Little prince then discover grown-ups through burlesque characters such as: the conceited man, the drinker or the Businessman. He also discovers friendship with his new friend, the shy fox who eventually be tamed, and danger, with the venomous and threatening Snake. Our brave pilot turned will be forever moved by the meeting with this little playful boy.

The sleek settings emphasizes the beauty and emotions of the texts. The costumes are the exact reproduction of the Antoine de Saint-Exupéry's illustrations.
5 actors embodies 13 characters.
The Little Prince's part is played by a 10 year old boy.
 Come to see the Little prince on stage, at Bobino, December 15th, 8PM.