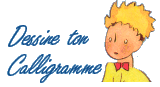 Think of an idea of your own to write a poem or text or take your inspiration from The Little Prince, and then arrange the words to make a picture.
A calligram is a subtle blend of drawing and writing. The name was invented by the poet Guillaume Apollinaire in 1918. To enter the competition, compose a poem or a text of your own or choose a phrase from The Little Prince and arrange it to make a picture – a Christmas tree, perhaps, or whatever your imagination suggests. The « precise » definition of a calligram is a poem or text which is laid out in a visual representation that relates to the words.
Entries must be submitted by 15 January 2005. You will receive your gift on receipt of your calligram. A selection of entries will be featured on The Little Prince website, unless you state in your letter that you do not wish your entry to be published online. We regret that entries cannot be returned.
This competition is now closed.